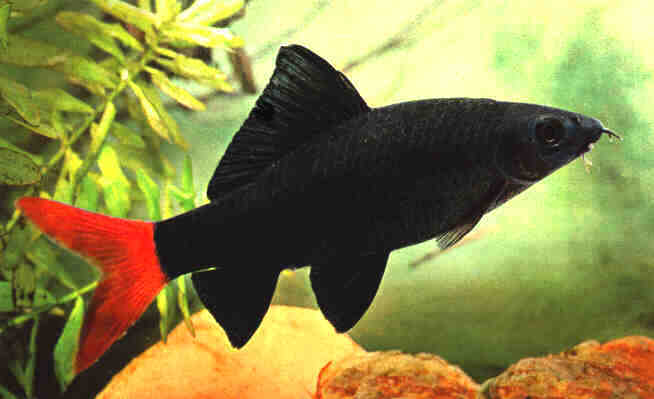 The Red Tail shark is one of my favorite fish of all time. I have heard many horror stories about how mean they are and how they stress tank mates greatly. They do chase the others a little but no worse than how tiger barbs and some tetras chase each others. In my experience if the tank mates are larger the sharks do not mess with them.
With him I have the following:
Pearl Gourami
Snakeskin Gourami
Rainbows
Cory Cats
3 serpae tetra
5 hy511 tetras
7 phantom tetras
7 blackskirts
The only one's he messes with are the the hy511's as they are the smallest in the tank, but they get away easily.
PH of 6.5-7.5
Temp. 73°F - 79°F (23°C - 26°C) Mine is around 82 degrees
They can live 5-8 years and you will want a big tank. Mine is a 55 gallon and I would hesitate to go smaller, but a 40 breeder might would work. These fish can reach 6 inches. I have had mine 15 months and he is a lil over 4 inches long.
Food/Diet Omnivore and primarily a scavenger. They will go after most of what you put in the tank including flakes, live and freeze dried foods. Mine enjoys shrimp pellets and some algae.
UNLESS YOU HAVE A HUGE TANK DO NOT GET MORE THAN ONE OR HAVE ONE WITH A RAINBOW SHARK OR BLACK SHARK!!!