Cynotilapia Axelrodi from Nkhata Bay, Malawi
Copyright
Kory Watkins USA Fishbox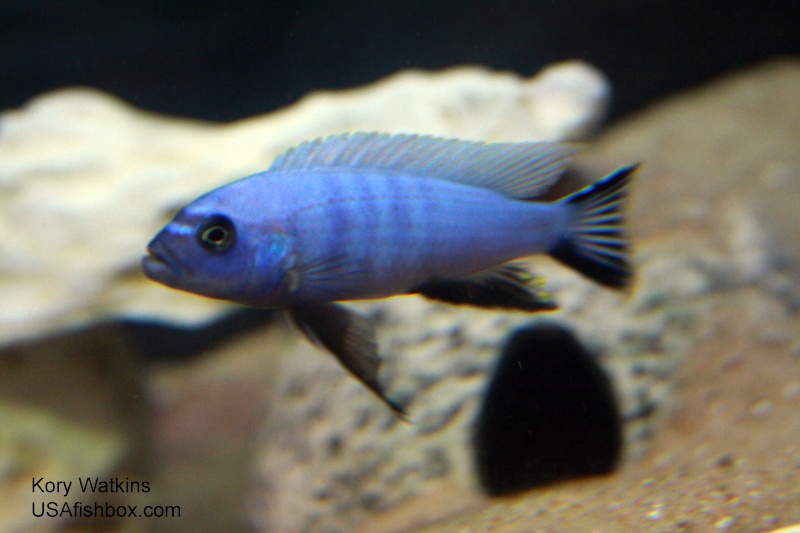 Fry in bubbler.
Female
Size (Inches): 4-5" max
Temperature (F): 78 - 82
pH: 7.5 - 8.6
GH: 5 - 20
KH: 3 - 10
Sex ratio: 1:4
Diet: Carnivore
Temperament: Mildly aggressive
Genus: Cichlidae-Cynotilapia
Group: Mbuna
Breeding: Maternal mouth brooder
This beautiful African Cichlid is from Lake Malawi located in the Nkhata Bay area. This species was first found in 1976 by Burgess. According to Ad Konings, this species occurs from Mundola Point all the way north to Lion's Cove. This Mbuna is listed as a VU D2 on the red list.
This is one of my favorite Africans that I keep. The male has a dazzling sky blue on the majority of his body but his anal fin and pelvic fins are pitch black with his caudal fin having a black outline and a couple of yellow egg spots on is anal fin. He also has a very eye catching mask on his face. The face is a shade darker of a blue color but not much different from the rest of the sky blue body. Near his eyes is very unique, it's almost as if he wears glasses that are sky blue like the rest of his body. During feeding or breeding the darker blue part of his mask almost turns black. The color changes are breath taking.
The male will start breeding as early as 1 year or around 2 inches. These guys are very good sand diggers, they also love to have some rock to hide in and call home.
The female is a very dull blue color with rusty yellow on the outer parts of the body including the pelvic, anal, caudal and dorsal fins. The females can start breeding very young sometimes as early as 1 year or 2 inches. The 1st batch will range anywhere from 8-12 fry. Later on they will be able to hold as many as 25.
I have a group of 12 in a standard 55 gallon tank with some Sturatgranti Maleri Island Peacocks. Out of the Nkhata Bay I have 2 Males and 10 Females. As with the Peacocks I have only 1 male and 4 female. They don't seem to mind each other and it dose not stop the breeding. I have a handful of hiding spots for everyone and about 2-2.5" of Pool Filter Sand in the bottom for digging and creating more hiding area. I do 40-50% water changes weekly with a monthly filter rinse on my Emperor 400.
I have had this group for about a year. I have got them to breed several times. The first handful of times the females would spit super early (2-3 days after spawning) and then I moved so breeding was slowed and my 2 main females passed in the move. Now that I have the group settled in and spawning has taken place several times I should have a bank full soon! Right now I have a few females holding and fry growing out. I could not be any happier with my group that I got from DRAF (Dave's Rare Aquarium Fish) about a year ago.
If you love Mbuna and are looking for something to stare at with a smile, this will more then do the job. I would recommend the Cynotilapia Axelrodi from Nkhata Bay to any African Cichlid keeper.
Copyright
Kory Watkins USA Fishbox