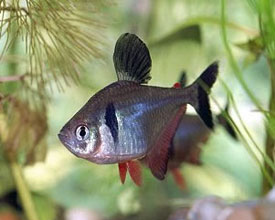 My apologies for taking so long. Been a bit of craziness as of late.
The Black Phantom is one of my favorite schooling fish. They look quite similar to their cousins the Serpae tetra, and will inner school with each other. They reach a size of 2 inches and as most schooling fish they enjoy a group of 6+ and are quite peaceful. They prefer a dimly lit aquarium, this can be accomplished with many floating plants. I have mine with black skirts, rainbows, serpae, hy511, columbians and a redtail shark.
The males have longer black fins and the females have bigger bodies as well as the red accents on their fins which are much shorter. They typically live up to 5 years and are very easy to feed as they eat all flake food pretty much.
If you wish to breed them get an aquarium 5 gallons is plenty. Lower the Ph to 5.5 and hardness of 4 dGH. Condition a pair with live foods...ie mosquito larvae and then put them in the breeding tank. When you see eggs, remove the parents as they will eat the eggs. For convenience you can avoid a substrate. For the fry, they will accept freshly attached atermia. After 10 days they will accept finely crushed flake food.
"Black Phantom Tetra – Megalamphodus Megalopterus." Black Phantom Tetra – Megalamphodus Megalopterus. N.p., n.d. Web. 26 Dec. 2012.