Having always used plastic plants in all my tank set-ups, I was introduced to planted tanks when searching for a nice shrimp set-up for my CRS. Not knowing much about CO2 injection (or the will to spend lots of $$ on equipment), I set out to create an ideal low-tech planted tank. I've done lots of experimenting with all sorts of plants collected/purchased from many of my local plant enthusiasts here in the DFW area. With some good advice on hand, lots of patience, and a little bit of luck; I've been able to maintain my low-tech planted tank for about 4-5 months now.
I've manage to have some luck with these plants:
Anubias Nana (Anubias)
Bacopa caroliniana (Lemon bacopa)
Bacopa monnieri (Moneywart)
Bolbitis heudelotii (African fern)
Cabomba caroliniana
Cabomba furcata
Ceratophyllum demersum (Hornwort)
Cryptocoryne wendtii (Crypts)
Eleocharis acicularis (Dwarf hairgrass)
Egeria densa (Anacharis)
Fissidens fontanus (Phoenix moss)
Hemianthus micranthemoides (Baby Tears)
Hygrophila corymbosa 'compact'
Hygrophila Polysperma 'Rosanervig' (Sunset Hygro)
Lilaeopsis Mauritiana (Micro swords)
Ludwigia ovalis (Oval ludwigia)
Ludwigia repens (Water Primrose)
Lysimachia nummularia 'Aurea' (Creeping Jenny)
Microsorum pteropus (Java Fern)
Microsorium pteropus v. Windelov (Lacy Java Fern)
Riccia fluitans (Crystalwart)
Rotala Indica (Rotala)
Subwassertang (Freshwater seaweed)
Vallisneria americana (Jungle Val)
Vesicularia dubyana (Java Moss)
Vesicularia montagnei (Christmas Moss)
Of course some of these plants won't show their true potential unless there is CO2. I actually set up (3) 20L's at the same time and placed the same plants in each... they all had different substrate, lighting, filtration and only one tank seemed to have taken off. HM was the hardest plant for me to grow, they melted numerous times until they established themselves in a small area of my tank.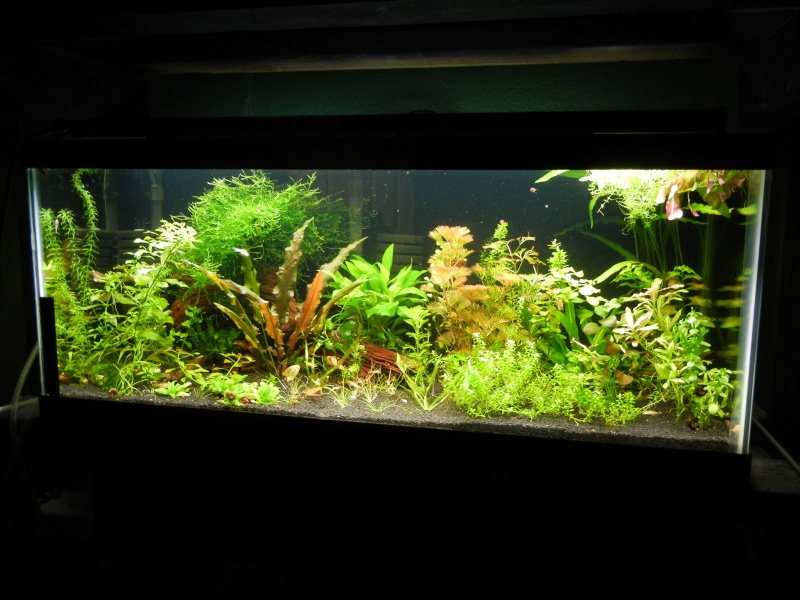 20L with 30" Coralife fixture (6700k-18W + Colormax-18W) @6 hours of light/day, Dual head O2 Plus sponge biofilter connected to the intake of an AC50 + Single sponge filter connected to a whisper air pump, 3M black crushed quartz. This tank houses CRS, Cherry Shrimp, and 50+ juvy ABN's.
This set-up seemed to work for me. Of course it was more trial/error than anything, since I knew nothing about planted tanks. Just thought I'd share my set-up. Enjoy!