Well let me start by saying this was an easy project that took roughly less then one hour to complete and a little longer to fine tune.
So as with most my projects I had a purpose in building this system...
I have a bunch of 10 gallon fry tanks setup that house each spawn once they are free swimming. This means that while they are very small there are over a hundred or more fry in the tank at any given time. As anyone who has ever went through the process of feeding fresh brine shrimp knows... it can be a very dirty process.
The first week or two after the fry start to free swim they are fed 4-5 times daily then 3 times a day and this has the effect of fouling the water very quickly. My daily water change was nearly 90% and sometimes more then once. Now in the spirit of keeping healthy fish this is fine with me but I felt that in-between the times that I had available to do these water changes the water sat too long.
I came up with a drip style water exchange system that is really easy to implement. This system is setup to exchange 5 gallons a day. As you might imagine this does not mean that only old water is removed some new and old are removed at any given time but over the course of the week it should add up to nearly a 96% water change out. That on top of all the other now smaller (less then 50%) water changes put the overall water exchange well above 100%.
I have had this up and running for a few days now and noted much improved water quality overall with less overall floating debris between cleanings. I believe it is providing a better environment for the fry and helps me out on the time I have to care for so many fish.
As promised here are the pictures and some short explanations to go with them.
Gather all the tools:
Drill with bit to fit size line you want to use(air line in my case)
Paint cup (bought at home depot for 2.50 a box.
Tubing
Zip ties
Small power head (sized to meet your needs)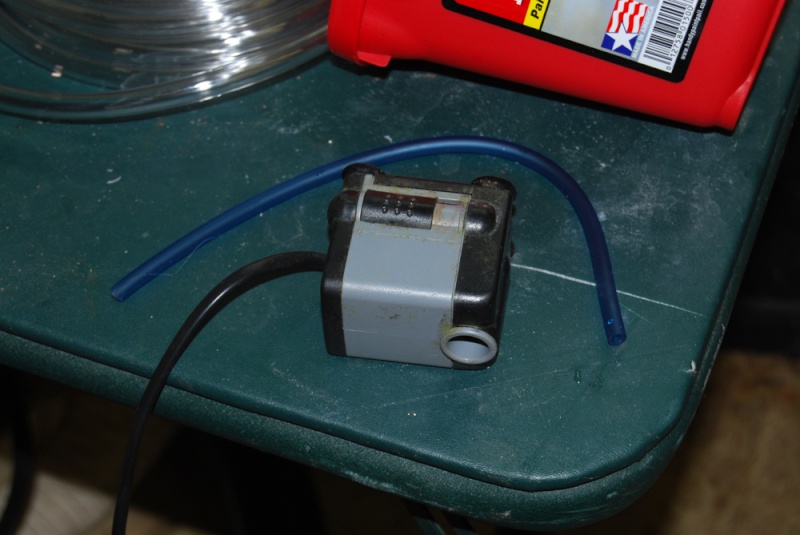 Drill a hole in the bottom of the paint box. This box will act as both a drain and overflow.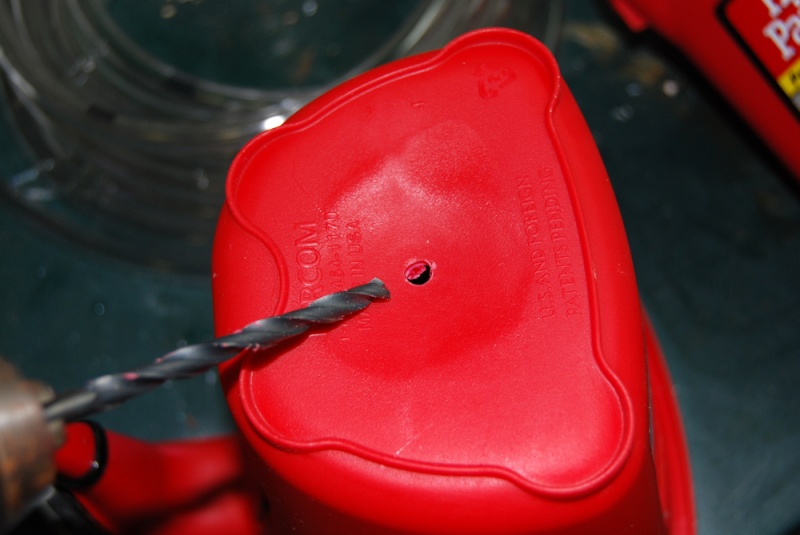 Cut your tubing on a tapper to aid in feeding it through the hole you just drilled
Tube should fit very snugly in the box you can leak test it at this time...
Next is very important. This tube you just installed is your drain tube. The height of this tube will determine the water level in the tank. I later cut the tapered end off and set the proper height of the tube for the water level I wanted to maintain. This tube MUST be higher then the inlet tube in this cause because the box doubles as an overflow.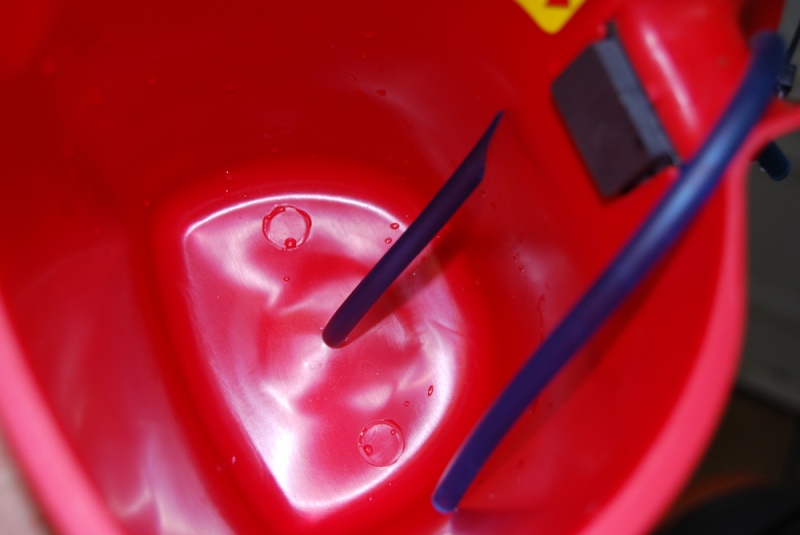 Connect your power head up to a feed line. This feed line will either run directly to the tank you wish to install the system on or a splitter or valve to control flow. In this system Flow in = flow out. The power head will pull water from whatever water holding tank you want. In my case I have a 75 gallon tank setup for nothing put water stabilizing. I apply any water treatment to this tank BEFORE it is pumped into all the others. Works great and really cuts back on the need to add chemicals to remove chlorine ect...
This plastic splitter for airlines is used to down size the power head tubing to airline size.
Standard plastic valve controls are used to set the flow rate of inlet water(keep in mind this is a SMALL system)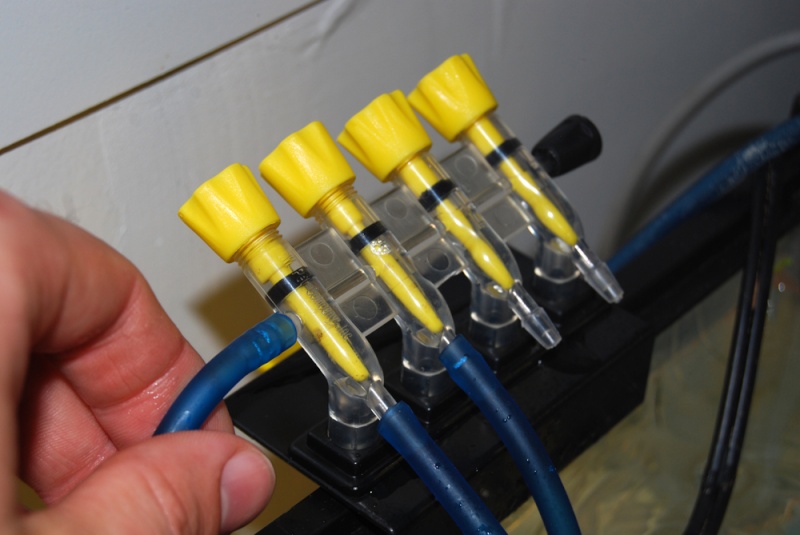 In order for me to get a 5 gallon a day overflow I had to set a very low drip on the inlet.
Take a small piece of tubing and run it from the handle that sets in the water to the overflow area. Remember earlier we set the drain tube higher in the box? The outlet tube from the tank will set below this tube in water thus creating our constant siphon. To start the siphon simply hold the small tube under water and fill it then pinch off the end and place both pinched ends underwater. The water will flow from the higher level tank water into the lower level box. Once it reaches the height of the drain tube it will begin to drain. Since your inlet tube keep putting in water this overflow will continue.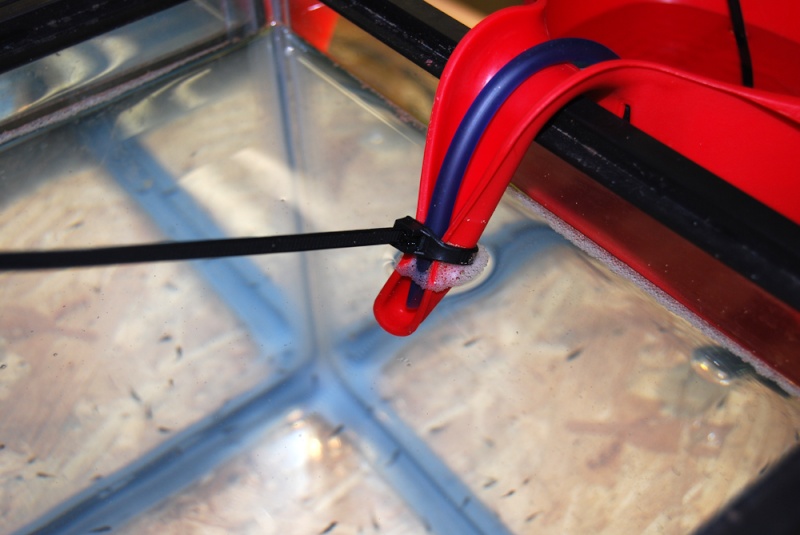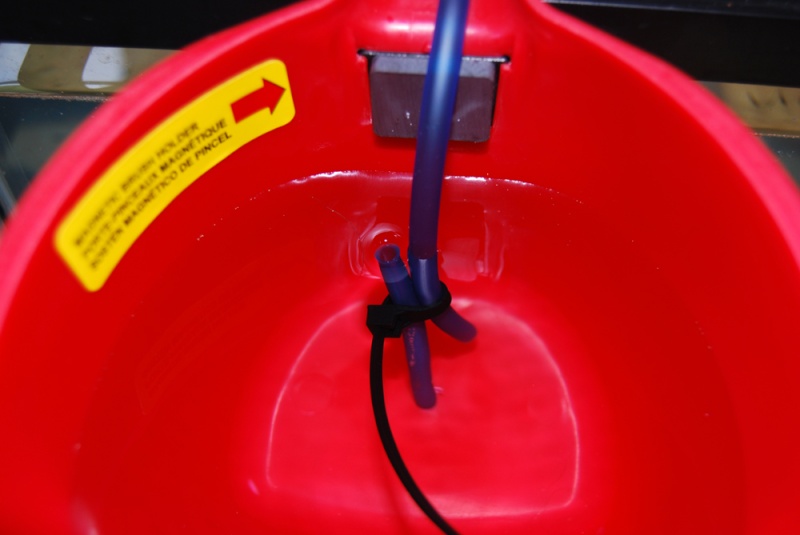 In my case all the overflow boxes exit into my brine shrimp factory water bath. This water bath is simply a plastic flower box that I fill with water and throw in a heat to maintain an 82-84 degree temp to hatch the shrimp quickly. I drilled another hole from this box and drain this water into a bucket for now later it will be an outside drain.
My latest batch of happy fry. This is only a small amount of them the rest are all around the tank!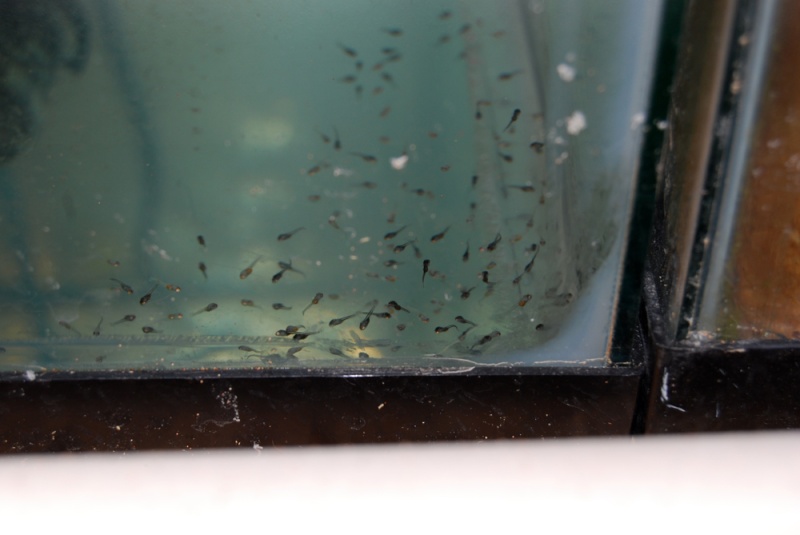 Be sure to check the overflow box for any fry. It is good at catching them but you still need to check for them! I find maybe one a day in the smallest tank. The rest of them are strong enough to swim away.
Hope this all makes sense! It is simply and overflow system but instead of a sump it is an old out fresh in system!